All That & More Custom Wigs, Hair Extensions & Hair Replacement Solutions
Regular price
Sale price
$612.00
Unit price
per
Sale
Sold out
Share
About this item

Lace Front Loose Wave Wig
Hair Type: 100% Human Hair
Hair Lengths: 10″- 30″
Hair Style: Front Lace
Density: 150%
Lace: 13x4 Transparent Lace
Hair Grade: Virgin Hair
Hair Color: Natural 1B
Coloring: Can lift to a #27
Product Description

Loose Wave Wig
Absolutely stunning! The quality and durability of this wig cannot be questioned. 100% Human Hair with a Natural Hairline. The pre-plucked frontal will require minimal customization. Made with transparent lace to give you a realistic look when installing and wearing.

Extra time is taken to ensure the finest quality at every angle. Ventilating the frontal with tiny knots is a time-consuming process that results in the most natural look possible. Available in 16"-24" in length.

Hair Type: 100% Human Hair
Hair Lengths: 10″- 30″
Hair Style: Front Lace
Density: 150%
Lace: 13x4 Transparent Lace
Hair Grade: Virgin Hair
Hair Color: Natural 1B
Coloring: Can lift to a #27

Platform: Zoom Online Meeting
Shipping Conditions

Normally need 1 - 7 days of processing before delivery.
View full details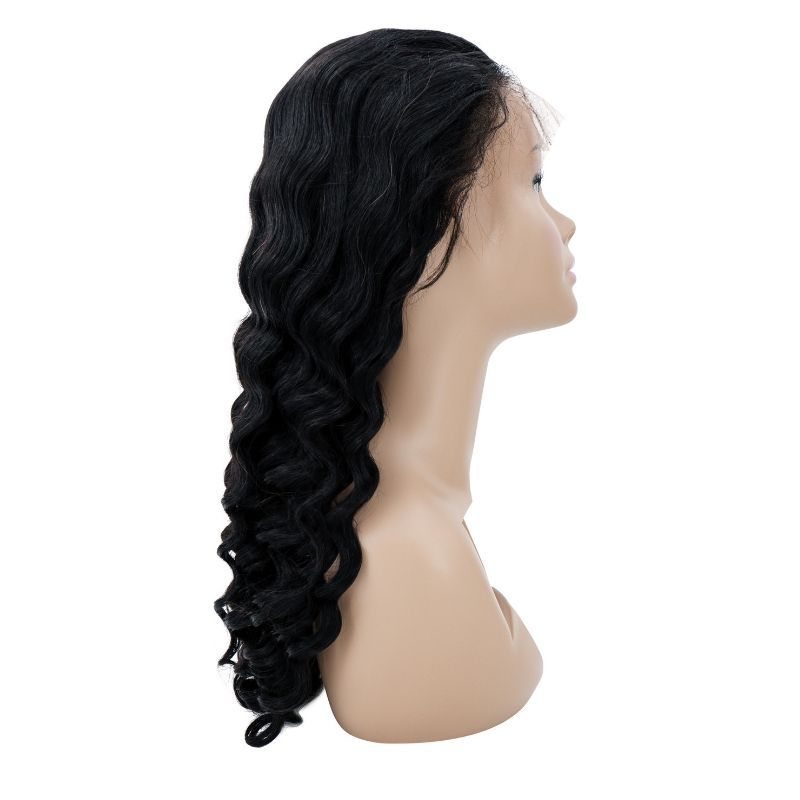 Frequently Asked Questions
Shipping Conditions

Normally need 1 - 7 days of processing before delivery.
What If I Need to Exchange Or Return?

This is the most asked question and the one we try to communicate thoroughly with our clients so we provide a great Happy, Healthy, Sanitary customer experience. Unlike other brands who provide 30-60 day exchanges and a lesser quality product, we only provide a 24-hour exchange. Why is this, you ask: because we operate in a matter complying with salon quality sanitation guidelines. We believe as hair professionals that we should never resell human hair used by one individual to another because we cannot say with complete confidence it is completely sanitary and stand by the quality after it has been used not knowing what the previous client has done to the unit. Other brands have a lesser quality item and will allow customers to wear the units for 30-60 days at a time, then return and resell the unit to multiple clients. This is very unsanitary and in our professional opinion, an unethical practice in our industry. Some claim 30-day returns as long as you do not open the package...well how possible is that really? We find this unfair to the client. How can a client see if it's a match without opening it? Our policy is simple...notify us within 24 hours of receiving the package that you would like to exchange it. Just do not alter the style of the unit and immediately place it back in the original packaging and drop it off at any UPS store within 48 hours of receiving the package and return for a one-time exchange. As far as a return and refund, we don't allow for this at this time for sanitary purposes. Once we receive an exchanged item, it is considered a scrapped unit and goes back to our education team to use to educate incoming stylists or is placed in quarantine for 30 days to verify it is at that point sanitary.

To sum up, if you are unhappy with your piece when you receive it, please call us within 24 hours at 1-678-404-2477 to speak with our Customer Service Department. We allow a one-time exchange only. We do not offer refunds--NO EXCEPTIONS.
How To Make Your Hair Extensions Last Longer? 

A: 1. Let the licensed stylist install the hair extensions for you. 

2. Brush your hair extension twice a day to keep hair extensions clean and untangled. 

3. Use a lace to tie your hair up in a ponytail or bun for your pre-bonded hair extensions when you exercise. 

4. Brush your hair before you sleep to reduce the number of tangles you'll wake up to find in your hair. You can also put your hair in a loose braid or ponytail. Or get yourself silk pillowcases to minimize the tangling during the tossing and turning at night. 
What Type Of Hair Care Products Should I Use?

 A: Treat this hair just as if it was your own hair. 

1.Use good quality shampoo and conditioning products.

2. Conditioning your hair is very important to keep it soft and manageable, so use leave-in conditioners. 

3. You could use gel or hair spray to keep the curls in place, but make sure to wash your hair and not leave these products in for a long time. 

4. Olive oil will be a good choice to keep the hair healthy.
Have A Question?

Get help & go to the bottom right corner of your screen & Chat with us